I'd like to consider myself a packing expert. From years of packing for 8-weeks of summer camp as a child and teen, to packing for college, to packing for vacations, to packing for study abroad, to packing for business travel, to packing to move from Philadelphia to New York City... I have truly tried it all. The rolling technique vs. the folding technique, packing cubes vs. Ziplock bags, packing with clothes still on hangers in dry-cleaning bags – you name it, I've tried it, and I can officially say there is a method to my madness, and it works!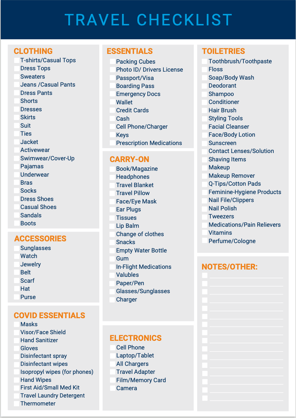 This post includes several links to products that the author personally uses and included for ease. This post is not sponsored, and neither FlightAware nor the author will receive a commission from link clicks or subsequent purchases.
Tip #1: Packing cubes are KEY
To me, packing is like preparing an epic sandwich. You need good sturdy bread (luggage) to serve as the base, the meats, cheeses and veggies (clothing, shoes, toiletries etc.), and lastly the secret sauce – the glue that holds it all together, which for me is 100% PACKING CUBES. They are life changing! While there are one million styles available on the market: I recommend this set from Amazon. They're super affordable and come in a variety of sizes and colors. So that's my #1 Tip!
Tip #2: Use a carry-on when you can
As to luggage – when flying, I try my absolute hardest to pack in a carry on. We all know that feeling of arriving to baggage claim only to find that your luggage did not make it to the final destination. It's heartbreaking and a huge pain in the butt. Sometimes you're going on a long trip or a move and packing and checking multiple bags is simply unavoidable. BUT, Tip #2 – when you can… try to pack in a carry-on. Here is the bag that I currently travel with by Victorinox. The reason I'm obsessed with this bag is because it's truly the best of both hard-side and soft-side luggage. Not as rigid as the hard case luggage out there, which allows some give and flexibility to really jam-pack it to its maximum capacity (and then some!).
Tip #3: Make a list (don't worry, we made one for you here)
Packing style – the delicious filling to my packing sandwich; the innards! The gorgeous burger, lettuce, tomato, and onion that is cooked to perfection. This process for me starts with a LIST: Tip #3. In my experience, packing is a complete fail IF you don't map out what you actually need for the particular trip you're embarking on, PRIOR to ripping your closet apart and ultimately packing unnecessary things. Break your trip out day by day, activity by activity, meal by meal, and determine what you'll actually be wearing – from socks and under garments to pants/shorts, shirts, shoes, bathing suits/coverups, dresses, outerwear etc. This way, you'll see where you can repeat and swap different garments for different outfits. You'll be able to visualize the big picture, as far as packing needs for your trip as a whole.
Enter: PACKING CUBES (Tip #1)! I categorize my cubes by garment. So, this means undergarments, socks, PJs, bathing suits – that's one cube. Tops and bottoms (*rolled* together by outfit – yes, I'm a clothing roller within the packing cubes!) get their own cube, and then lastly outerwear. I always put shoes in first at the bottom of the bag – they're likely the heaviest item that I'm packing, and they really don't need to be in a packing cube. Toiletries, jewelry/valuables, and medications, etc. I make sure are travel-sized and throw them into my tote bag or purse, just in case I'm forced to gate check my luggage (brutal, but it happens!) – those items I feel are most important and I want them on my person no matter what.
Tip #4 and #5: Travel comfortably

and use functional items
Secret sauce packing items – my day-of travel outfit is KEY. Tip #4: I genuinely believe that people who fly in jeans are aliens from another planet. How could you not want to be comfortable when you fly? I travel exclusively in leggings and a comfortable top and ALWAYS pack a second layer in my tote bag, whether that's a sweatshirt or a denim jacket …because the plane is always FREEZING. I'm a firm believer that you can totally elevate "loungewear" and not look like a slob while still being comfortable. In cold weather months, I often times pack a blanket scarf which doubles as a pillow for the plane, Tip #5! Additionally, I am never without Bose noise cancelling headphones. They are magical and truly life changing for airline travel.
Tip #6: Make a COVID kit
COVID-19, is very much something to consider while traveling and packing for travel: I will not leave the house without a mask. I'm big on the reusable/washable mask option and have been loving these masks from Sanctuary. A travel size hand sanitizer (or two) is key, as are travel size disinfectant wipes to literally scrub down every inch of my seat on the plane, seatbelt, folding table, entertainment screen, etc. GLOVES are also key to getting this job done safely. Take a packing cube and prepare yourself a little "Covid Kit" with all of these essentials and you'll be ready to roll – Tip #6. For me, the most important part of travel right now is safety and cleanliness, and as long as I'm prepared – I know that I'll feel comfortable.
Bonus Tip: Stay one step ahead with the FlightAware App
Before I leave for the airport, I always check the status of my flight on the FlightAware app. I also like to use the "where is my plane" feature to see where my plane is coming from (in real-time) and if it's on time. Our staff voted this as their favorite feature, in a recent blog post. You can download the app for free and use it to set notifications for flight departure/arrival info as well as cancellations, gate changes, delays and diversions.
And that's how it's done! Make a list, pack what you need, pack in outfits, organize your packing cubes by category, make sure your day-of travel outfit is comfortable with a warm second layer option, don't forget your noise canceling headphones and Covid gear and you are ready for takeoff!
Safe travels and happy packing.
---

Written by Rachel Gold, Senior Account Executive and resident FlightAware packing expert