Thanksgiving Holiday Travel Dashboard & Tips
Thanksgiving week (Monday through Sunday) has long been a notorious travel week within the United States. Over the years, airline carriers consistently grew their schedules and added new routes, peaking in 2019 with 156K scheduled flights over the holiday week and 8K unique routes. In 2020, COVID-19 disrupted the airline industry and reduced the number of scheduled flights by 35%, but airline travel bounced back in 2021 by 37%, with 139K scheduled flights.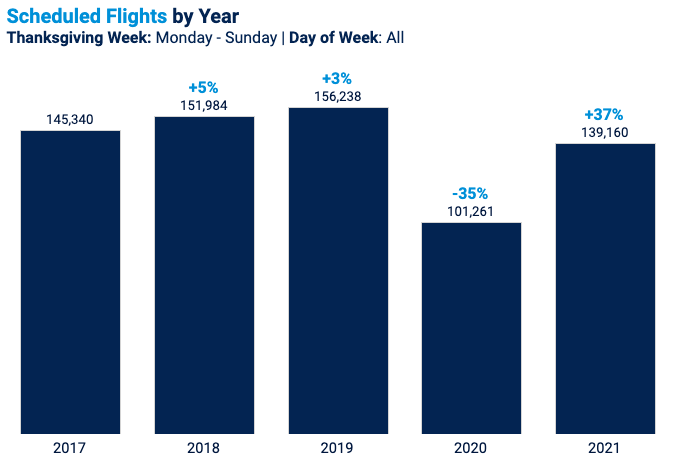 As the airline industry operated record numbers of flights each year leading up to 2019, cancellations and delays started to pile up. From 2017 to 2018, U.S. domestic cancellations increased by 1,424 flights (276 cancellations in 2017 to 1,670 in 2018). Domestic travel was disrupted again in 2019 when a coast-to-coast winter storm caused widespread delays and cancellations on the Saturday and Sunday after Thanksgiving. Although 2021 challenged the airline industry with cancellations throughout the year, during the Thanksgiving holiday week, the U.S. only saw 478 cancellations (0.3% of the total scheduled flights).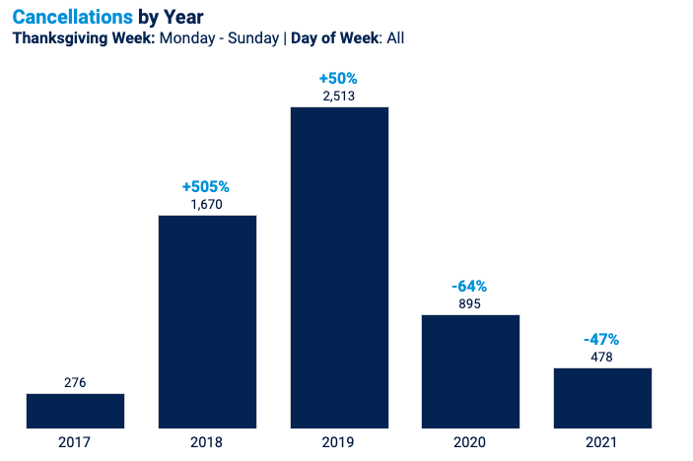 FlightAware Travel Recommendations
This year, as travelers around the states start to prepare for their Thanksgiving travel, we recommend using the FlightAware website and/or the FlightAware App. FlightAware will give any traveler the insight they need to always know where their flight is and if it has been delayed or cancelled.


By opening a free account that takes about one minute to create, holiday travelers can receive updates to know when a flight arrives, departs, and also know when an airplane is on the ground, but perhaps not yet at the gate. A great feature is "Where is my plane now?" It lets passengers know exactly where their aircraft is and provides a broader picture. For example, if the gate information says your flight is departing on time in forty-five minutes, but you can see on FlightAware that the jet is still a half-hour out from landing, you can plan accordingly, knowing that you're unlikely to depart on time.
Information is power. Knowing sometimes even before the airlines do of where your aircraft is and when it will be at the gate means you can look for alternative flights, if necessary before other passengers even know a flight is delayed or cancelled.
The early bird gets airborne, statistically, with less delays and fewer cancellations. As the day wears on, airlines have fewer options for passengers, which is why if you really need to be on time, taking the morning flight is often your best bet.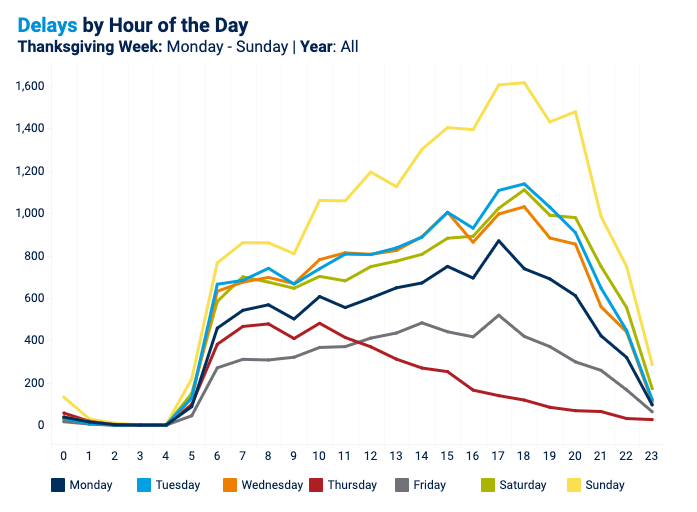 Interactive Thanksgiving Holiday Travel Dashboard
For more information on Thanksgiving holiday travel, view FlightAware's interactive holiday dashboard and see what Thanksgiving travel looked like in your area over the past five years.
Watch a tutorial on how to get the most out of the 2022 Thanksgiving holiday dashboard
Thanksgiving Week Holiday Trends
Use the Metric Selector to view top origins, destinations, routes, and carriers over the past five years by scheduled flights, cancellations, or delays. For example, see how scheduled flights landing or departing Chicago O'hare (KORD) differ by day of the week over the past five years.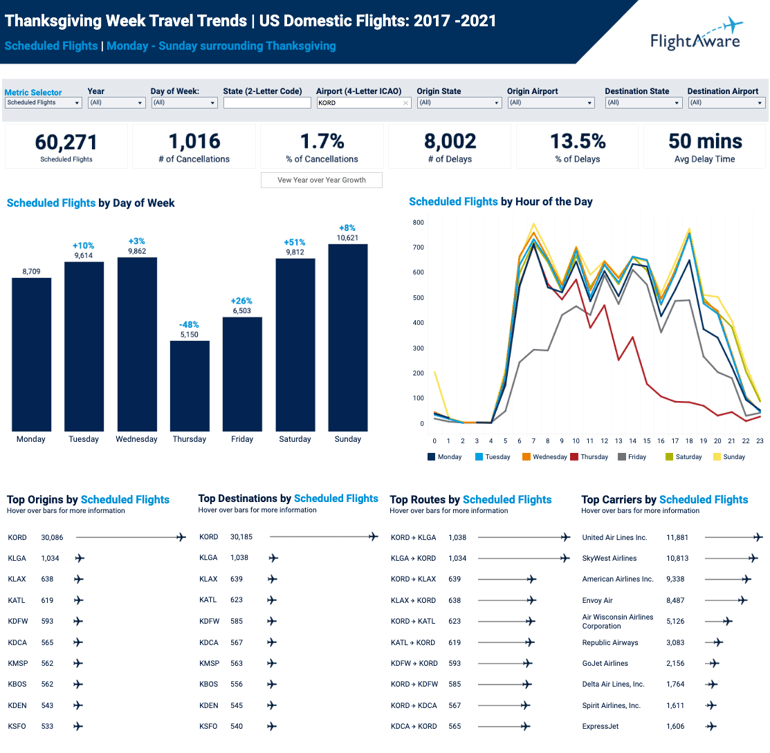 Thanksgiving Week Yearly Routes
See how routes have changed over time using the Thanksgiving Week Yearly Routes dashboard. For example, see which routes into or out of the state of Colorado were most affected by the 2019 snowstorm that disrupted post-Thanksgiving travel.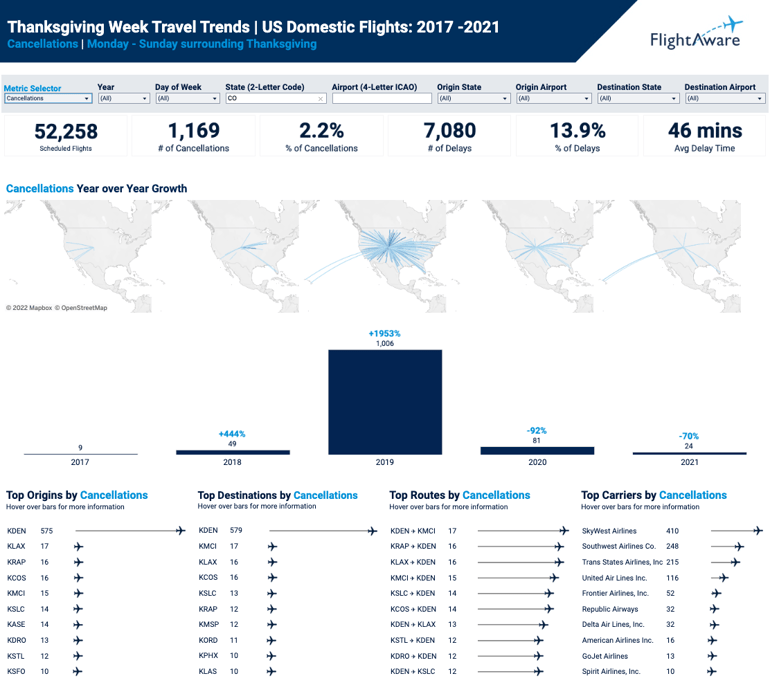 Origin Airport & Carrier Rankings
Finally, the Origin Airport & Carrier Rankings dashboard showcases the most affected origin airports and airline carriers based on cancellation % and delay %.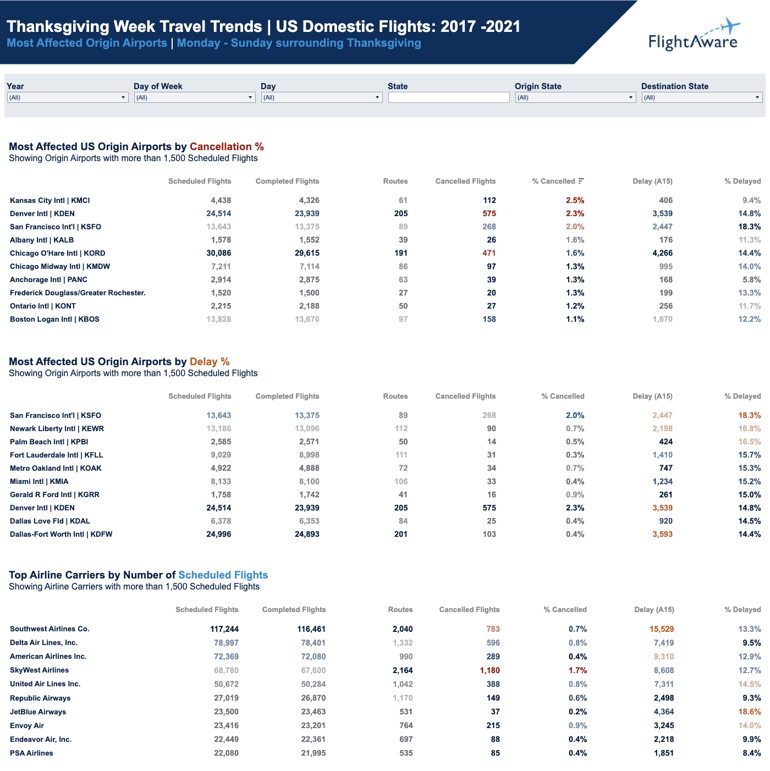 Don't miss our Black Friday Sale!
FlightAware has several Black Friday specials perfect for aviation enthusiasts.
Learn more here https://blog.flightaware.com/blackfriday2022.
Want more data?
Get individual airport and aircraft history reports delivered via email in under an hour.
FlightAware (a Collins Aerospace business) is the leading provider of real-time and historical flight information and insights to the global aviation community. FlightAware serves all segments of the aviation marketplace through best-of-breed applications and data services that provide comprehensive information about the current and predicted movement of aircraft. Through the collection, interpretation, and enrichment of hundreds of sources of data, including data from FlightAware's own proprietary terrestrial ADS-B network spanning seven continents and in 200 countries and territories, the company is able to transform millions of raw flight data elements and deliver them as coherent, easy-to-consume flight stories. As a single source of accurate and actionable data for aviation players large and small, FlightAware is central to aviation. 
Media Contact
Kathleen Bangs
, Marketing Director
11 Greenway Plaza, Suite 2900
Houston, TX 77046
Tel:
713.622.9958