We surveyed our staff to find out their favorite FlightAware features, and from those results we bring you the FlightAware Top 5!
#5 - Airport Pages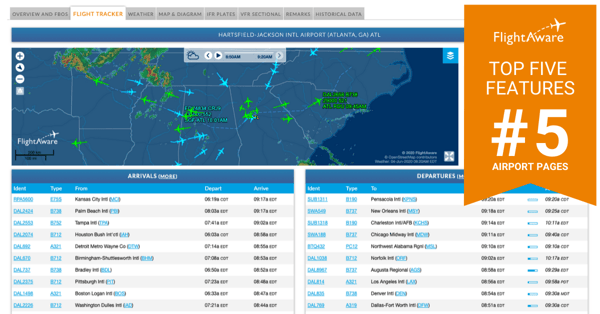 #5 on the list is the airport pages. Type in your airport code on flightaware.com to watch and track inbound and outbound planes in real-time.

"I find a good window seat and pull up the airport page for an overview of all arriving and departing aircraft. I've had a few people stroll by and ask what site I'm using." Stephen Maciolek, sales team.

Before your next trip, download the app for iPhone, iPad, or Android.

#4 - Flight Alerts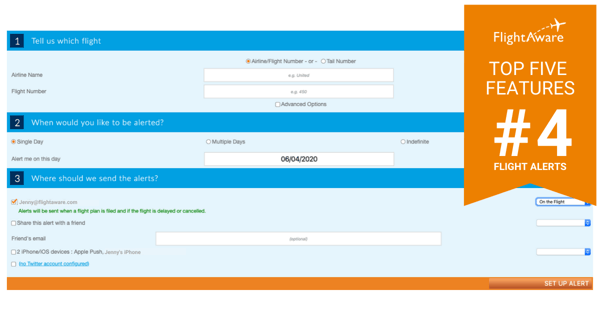 #4 on the list is flight alerts. Whether you're a traveler who wants to track your upcoming commercial flight or you want to follow a local plane, you can use the FlightAware app or website to set up push notifications or email alerts (see the types of alerts in the comments below).

Another cool feature with flight alerts is the Minutes Out notification. FlightAware will let you know when your flight is 45 minutes away from its destination. No more wondering if your flight is on-time, just set an alert and we'll keep you updated. The best part: you can control when and how you want to receive notifications!

Head to the FlightAware app to try it out!


#3 - Build Your Own ADS-B Receiver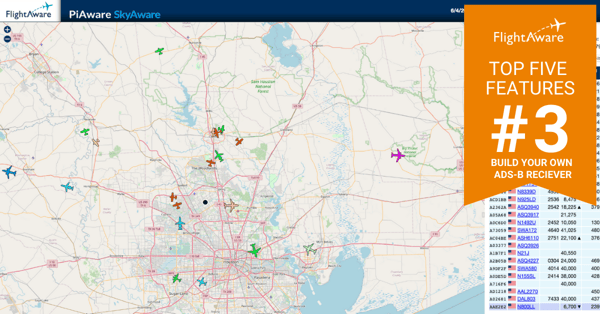 #3 on the list is the PiAware ADS-B receiver. Did you know that FlightAware offers an open source software package with open source hardware for anyone to build their own ADS-B receiver? Not only that, but building and setting up an active PiAware Receiver gets you a complimentary FlightAware Enterprise Account.

Build your own PiAware from the comfort of your own home for under $100!
#2 - Nearby Me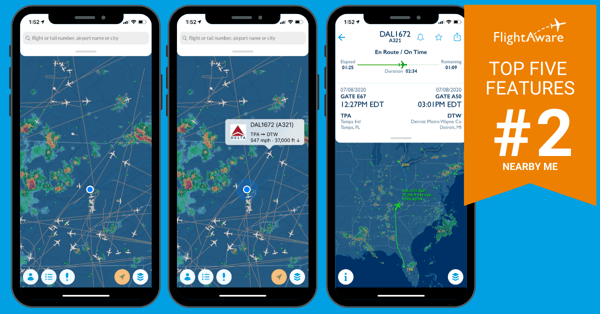 Our #2 top FlightAware feature is "Nearby Me." If you've ever heard an aircraft overhead and wondered what it is or where it's going, quickly open your FlightAware app and tap on any aircraft to learn more about it. This is a fun feature to explore with kids!

Can't wait to try it out? Download the FlightAware app on iPhone, iPad, or Android.
#1 - Track an Inbound Plane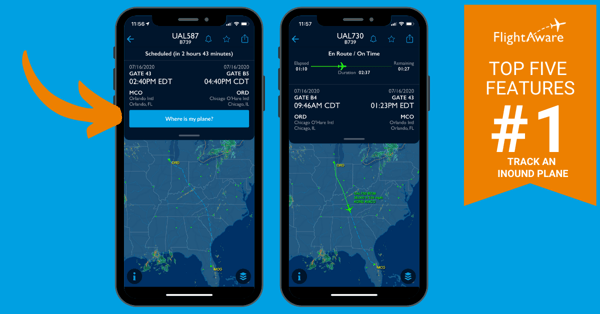 Our #1 voted FlightAware feature among our employees is "Track an Inbound Plane." Just type in your flight number and click "where is my plane" to see where it's coming from and if it's on time. No more waiting at your gate wondering if your plane is on the runway yet - you can watch its progress in real-time on the FlightAware app or at FlightAware.com.

Download the app for iPhone, iPad, or Android.