Why We Fly
At FlightAware, we believe that flying opens up the world around you. It makes distances shorter, the world more accessible, and satisfies one of the core aspirations of mankind. Our employees don't just work in the aviation industry or on aviation projects, they have a passion for it.
Many of our team members are already licensed pilots or on their way to getting their license. Our Flight Education Assistance Program helps to offset some of the expenses associated with personal flying. In addition, the FlightAware Flying Alliance is a group of employees who organize monthly fly-outs outside of work hours, exposing many employees to flying as well as getting to know one another.
We're passionate about sharing the joy of flight, whether that means supplementing instruction costs, inviting fellows employee to fly along, or just geeking out on the latest aviation news together. With that, we'd like to introduce some of our (ever-growing) FlightAware pilots!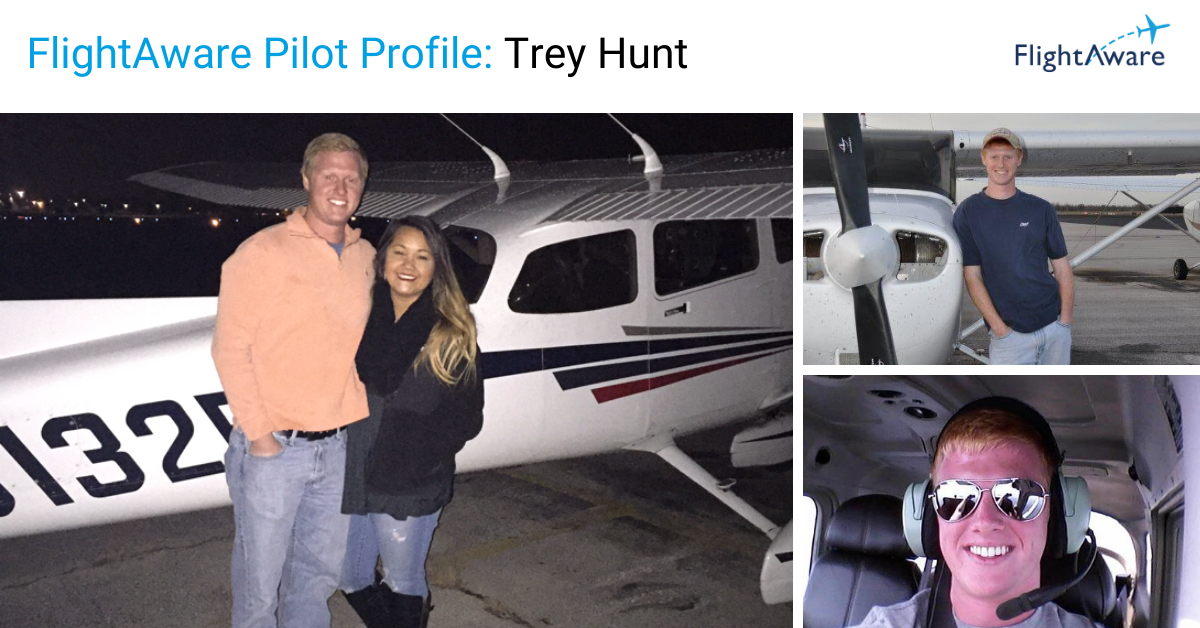 Introducing Trey Hunt, an Aviation Sales representative at FlightAware. Trey has been fascinated by aviation for as long as he can remember and has always wanted to get his pilot's license. During his last semester of high school, he began and finished flight training, receiving his pilot license in May 2010. Trey was able to fly frequently while in college and working line service and soon he hopes to be able to fly more often than a few times a year. Prior to joining FlightAware, Trey held a position in owner services for a fractional operator, as well as spent some time in sales and scheduling for a charter/management company.

A few of Trey's flight accomplishments include:
* Solo'd for 9 hours
* High performance and complex endorsements
* Approximately 400 hours total time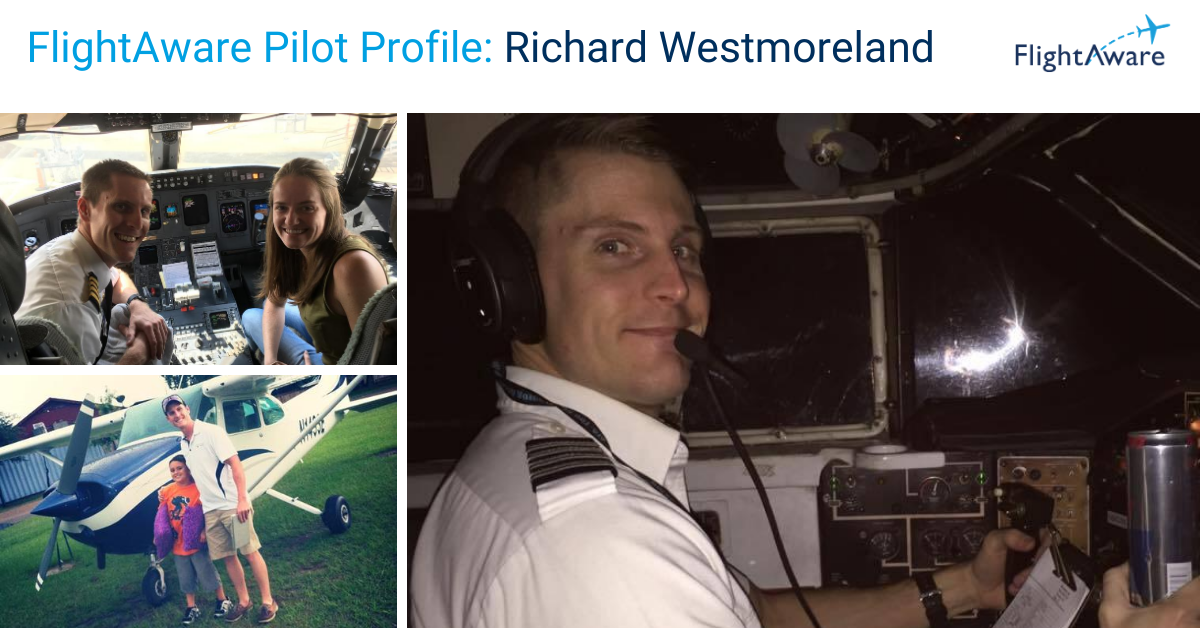 Meet Richard Westmoreland, FlightAware Software Engineer. Richard began his career in aviation as a flight attendant at the former Colgan Air. During that time, he became inspired by the pilots that he worked with and in 2012 obtained his private pilot's license. When Colgan went out of business, Richard moved out to Vero Beach, Florida, and got all of his other ratings (Instrument, Commercial, multi-engine, CFI, CFI-I, and MEI). Returning to Houston, he took up a role as a flight instructor for a year. In 2014 Richard flew cargo for Air Cargo Carriers in a Shorts 360 aircraft, and from 2015-2020 he worked for SkyWest as a first officer for two years and a captain for three years on the CRJ.
Richard joined the FlightAware team in 2020 and is loving using his firsthand experience to improve and implement new systems. He is enjoying being back to flying for fun.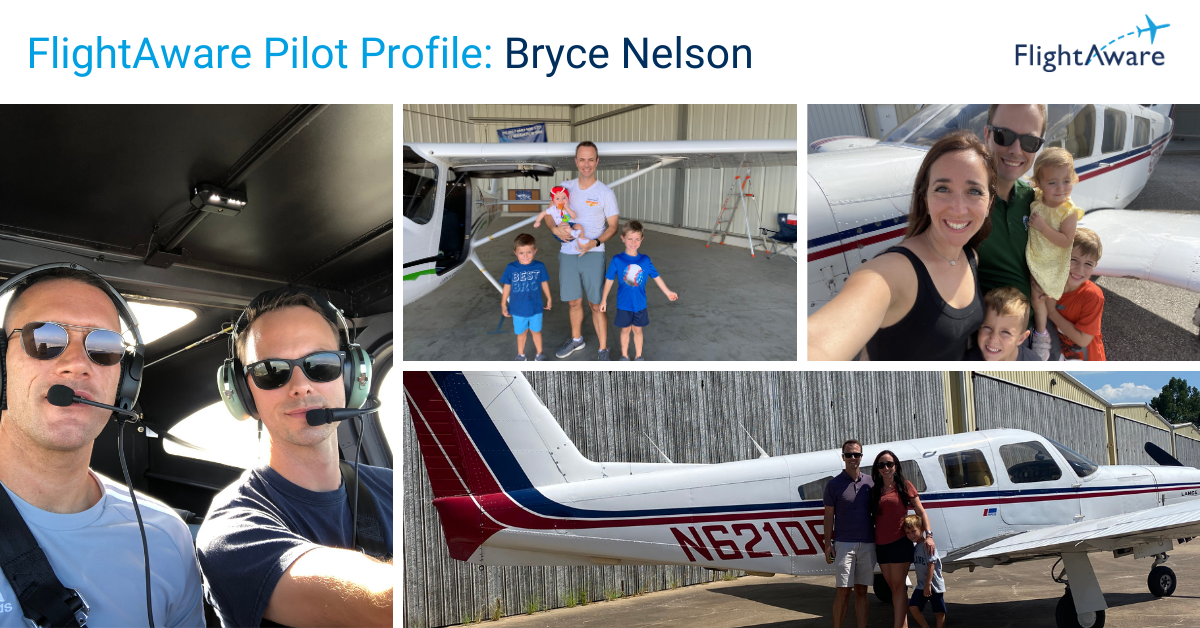 Meet Bryce Nelson, Sales Operations Manager at FlightAware. Bryce has had a lifelong passion for aviation that likely stemmed from annual summer vacations that included flying on airlines and long layovers at busy airports. In college, he got his first job as a line service technician at a local FBO and shortly after achieved his private pilot certificate in 2010.

After graduating from college, Bryce moved to Houston to join the FlightAware sales team. He took time off from piloting to start a family but rejoined the general aviation community when FlightAware began offering flying benefits to employees. In 2020 he bought a Piper Lance with two other partners and is currently working toward his instrument rating.

What he enjoys most about flying is the ability to travel with his wife, three kids, and their dog to obscure and interesting weekend destinations throughout Texas and the South that are otherwise less accessible by car or airline.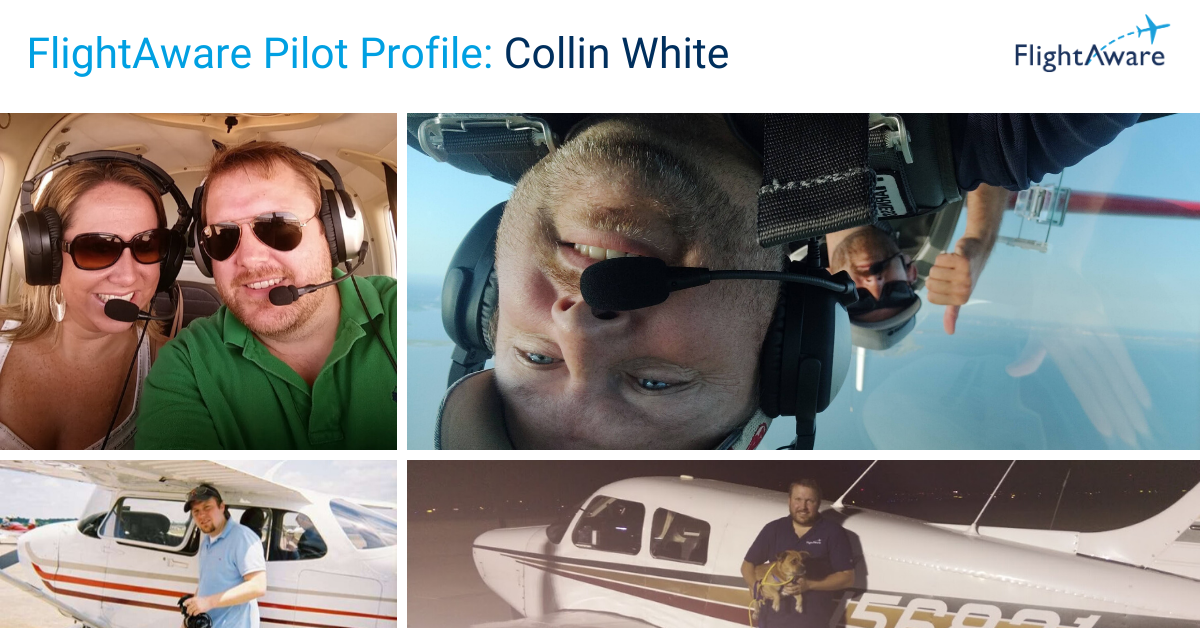 Meet Collin White, Senior Director of Aviation Services at FlightAware. "I'm not sure where the aviation roots started for me, but most of everything I have seen in aviation can be attributed to FlightAware in some way." Back in 2005, Collin registered for this "cool website" where you could track planes, not only that were right over you, but anywhere in the US; he had never seen anything like that. He started exploring aviation photo sites, flipped through magazines, and played Microsoft Flight Simulator; All. The. Time. In 2006 Collin was gifted a discovery flight and after lifting off the runway, he knew what he wanted to do for the rest of his life.
Unfortunately, spending a ton of money to pay for career pilot training was not in the cards. After browsing FlightAware one night, Collin saw an aircraft registered to a flight school and started to investigate how to get his private pilot license. He started the course in 2007, and in a little over 6 months obtained his Private Pilot's license. "During my training, I came across a job listing to work at FlightAware and couldn't believe there was an opportunity to work for this company that I was so enthralled with and be able to have a job somewhere within aviation." Collin is still at the place that brought him down this path 15 years ago and now tries to regularly fly his Cherokee around the skies of Houston, albeit "mostly to go eat."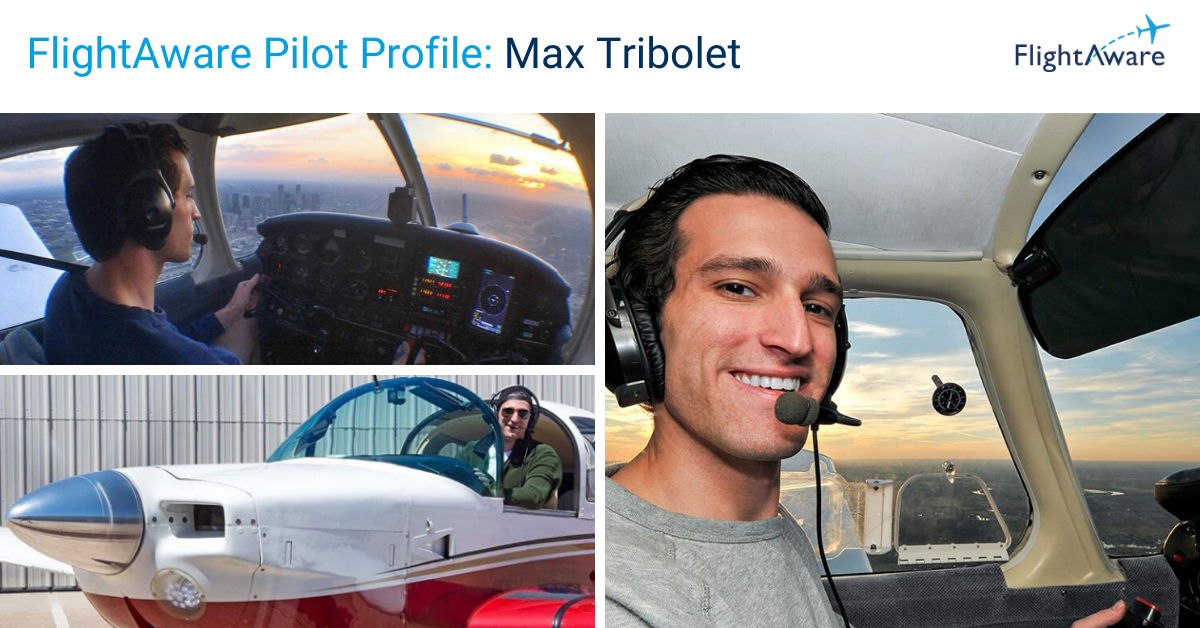 Meet Max Tribolet, Senior Director of Data Integrations at FlightAware, and this weeks featured pilot! Max became interested in flying as a young kid and started taking lessons at the age of 14. A couple of years later, while most of his friends were getting their driver's licenses, Max was focused on obtaining his student pilot license. Three days after he turned 16, he soloed a plane for the first time.

Max has logged hundreds of hours in various aircraft types. He enjoys the freedom that comes with flying and the accessibility it provides. These days, Max is mostly flying for fun, usually to grab a delicious lunch at a remote airport somewhere (which seems to be a common theme with our FlightAware crew).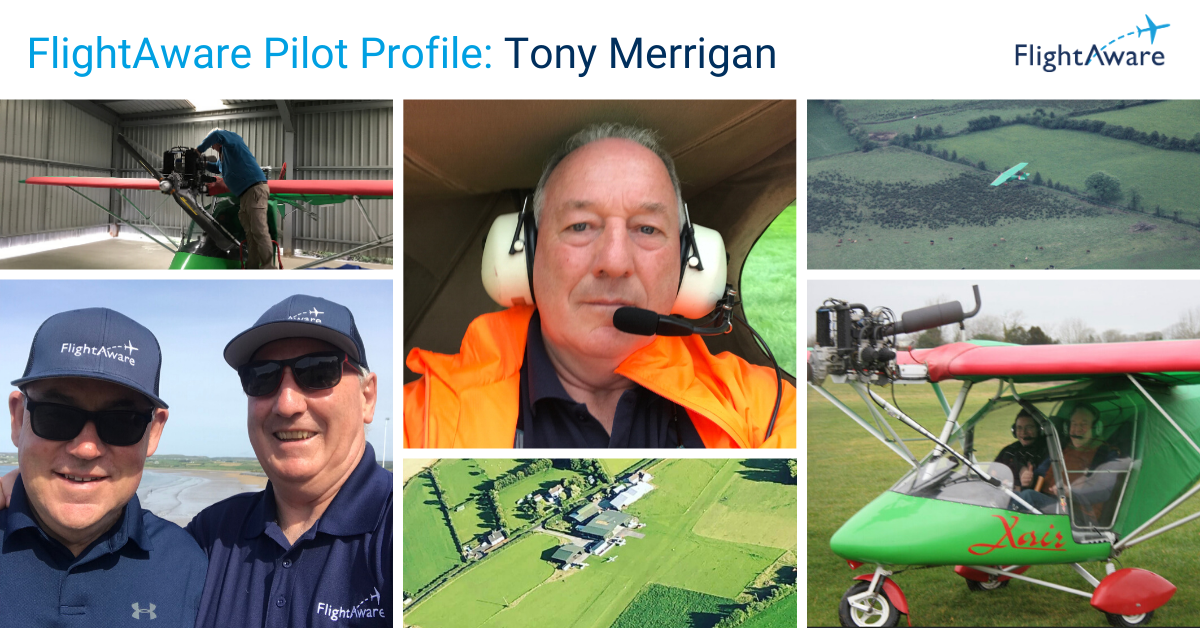 Introducing Tony Merrigan, part of the FlightAware team, and located in Ireland. Tony's passion for aviation started as a young boy. He took his first flying lesson in Kilkenny, Ireland at sixteen years old, but didn't actually get his license until he was in his late forties -- work, family and the expense of flying in Ireland saw to that.
Tony switched from 'heavy metal', Cessna 150's to 'rag and tube' when he purchased EI-TON, an X Air microlight with a Rotax 582 / 65 HP two-stroke engine. He has visited over 130 grass strips in Ireland and while EI-TON with a max speed of 50 Knots doesn't get you there quickly, it is ideal for the short farm strips that constitute flying in Ireland.
Tony's home base is Limetree Airfield in the Irish Midlands, a grass strip measuring 402 meters, and home to some really great aviation enthusiasts.
"My passion for aviation has given me a living, great friends, and allowed me to see the world from a different perspective, none more than now working with the good people of FlightAware!"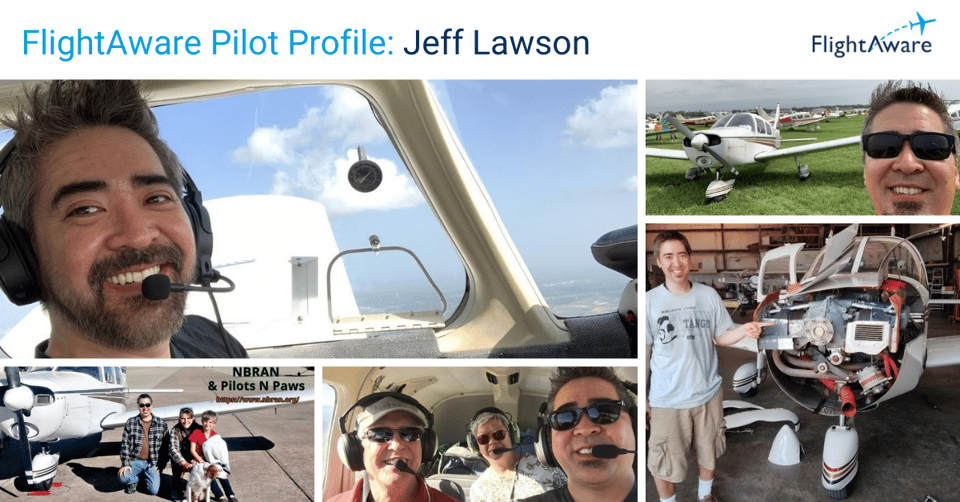 Meet Jeff Lawson, Senior Software Engineer at FlightAware. Although Jeff had always had an interest in aerospace, the motivation to start flight training came after joining FlightAware. Recently recognized for his 10th year at FlightAware, Jeff was one of the first employees to take advantage of the flight training employee benefit. Since starting, he has become an aircraft owner and obtained his instrument rating and commercial pilot certificate. He is now working towards a multi-engine rating and possibly an A&P mechanic certificate.
Jeff has flown 800 of his nearly 1000 hours of flight time in his Piper Cherokee, in trips spanning the country from Los Angeles to Oshkosh to Daytona Beach. He has participated in multiple "Cherokees2Osh" formation arrival flights and "Pilots N Paws" charity pet rescue flights.
Learning to fly provided Jeff with a way to more directly experience the real-world benefits of his work at FlightAware. His flight training has also provided him with additional in-depth aviation knowledge and technical background needed to improve the quality of features and user experience at FlightAware.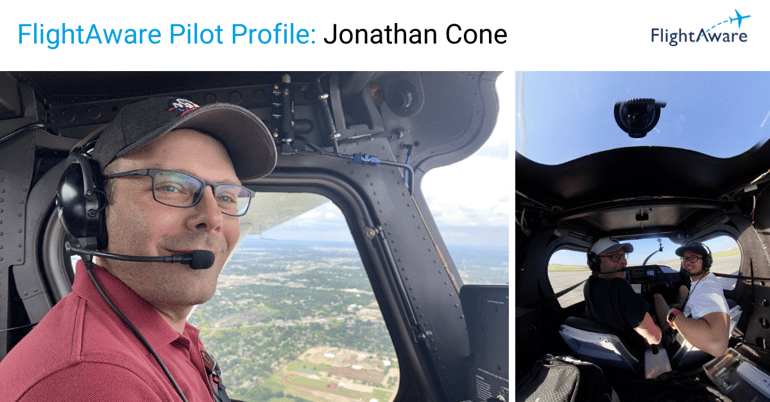 Meet Jonathan Cone, Senior Software Engineer at FlightAware. Jon has been interested in flying since he was a kid and obtained his private pilot's license in 2007. In 2008, he earned instrument and multiengine ratings, and earlier this year he picked up his commercial single-engine while training in the Digital Aviator's Skycatcher. Soon he will complete his multiengine commercial add-on.
Jon started by flying rented planes at local clubs. Shortly after, his dad also became interested in flying and earned his private license in 2008. He was so excited about it he bought a Cessna P210 and a C421, which was great for Jon, who has spent most of his flying time in those aircraft.
After almost 13 years of flying, Jon has 1065 logged hours. He's been able to fly to destinations like New York and Florida and enjoyed every minute of it. Jon loves getting a group of friends together and jumping in the plane for a weekend trip. He encourages anyone out there who is interested in flying to take the plunge!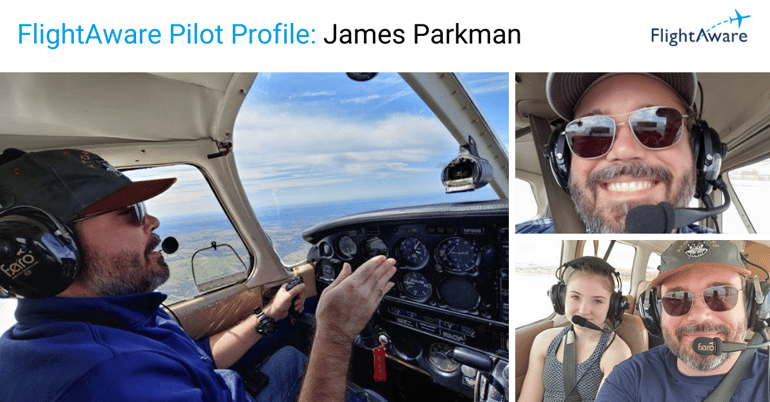 Meet James Parkman, Technical Project Manager at FlightAware. Before starting at FlightAware James hadn't considered getting his pilot's license, although having previously worked in video games he was a flight simulator fan. He saw FlightAware's support of flying as a great way to immerse himself in aviation and decided to try a discovery flight.
James was hooked right away by the freedom and sense of accomplishment piloting brings.
Being a goal-oriented person, he loves how flying offers the opportunity to achieve goals in stages. He was able to achieve his Private Pilot Certificate in about 6 months and now enjoys taking his family on cross country flights while working on his instrument rating and tailwheel endorsement. Piloting has greatly enhanced James' work at FlightAware, giving him the hands-on experience and knowledge to complement the high-tech data-driven work we do.
---
If you love aviation as much as we do, and are interested in learning more about opportunities with FlightAware, click below.