FlightAware's Special Event Flight Tracking


Masters Tournament at Augusta National Golf Club
Since 1940, Augusta, Georgia, has been a destination spot for thousands of golf fans during the first week of April, as the Masters kicks off as the first major of the year.

During the seven days leading into the 2022 Masters Tournament (April 3 - April 9), fans and players migrated to Georgia for this year's Masters. The local airports near the tournament fielded the yearly rush, when over 3,400 business aviation jets arrived, increasing business aviation traffic by 221% from the previous seven-day period (March 27 - April 2).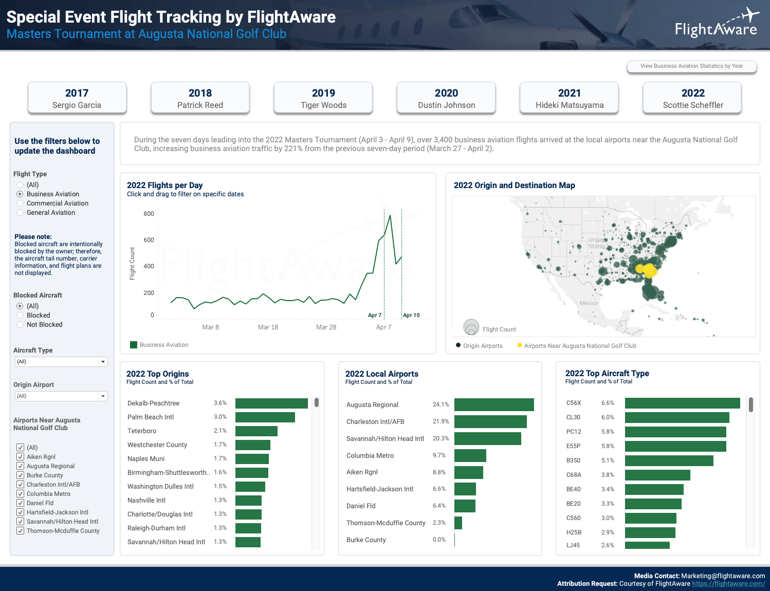 On average, business aviation traffic in 2017, 2018, and 2019 increased 208% during the seven days leading into the yearly tournament, often starting three to four days before the men's round began.

In 2020, the Masters was postponed for six months due to the COVID-19 pandemic. The tournament was then held in November 2020 rather than early April. Augusta's National chairman also declared that the event would occur without patrons or guests for the first time since the tournament began in 1934. Business aviation traffic reflected the lack of spectators, showing a 16% increase during the seven days leading into the match, compared to the over 200% increase in previous years.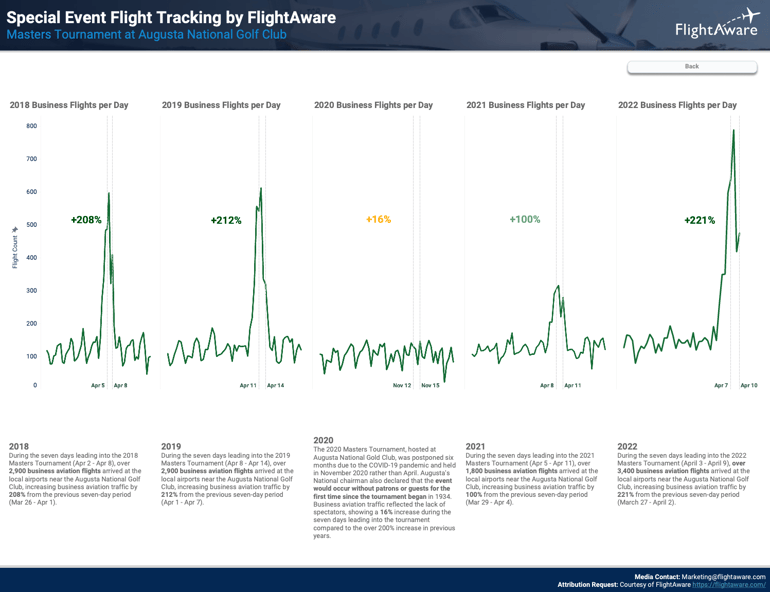 Last year in 2021, patrons and guests were allowed back on the course to cheer on their favorite golfers. Although business aviation did not respond with pre-pandemic numbers, over 1,800 business jets still landed at the local airports near the tournament, increasing traffic by 100% from the week before.

This year in 2022, business aviation soared past pre-pandemic numbers when over 3,400 business jets arrived at the local airports near Augusta National Golf Club.
Want more data?
Get individual airport and aircraft history reports delivered via email in under an hour.
---
About FlightAware:
FlightAware, a part of Collins Aerospace, is a leading provider of real-time and historical flight information and insights to the global aviation community. FlightAware serves all segments of the aviation marketplace through best-in-class applications and data services that provide comprehensive information about the current and predicted movement of aircraft. Through the collection, interpretation, and enrichment of hundreds of sources of data, including data from FlightAware's own proprietary terrestrial ADS-B network with tens of thousands of receivers spanning seven continents in 200 countries and territories, FlightAware transforms millions of raw flight data elements and delivers them as coherent, easy-to-consume flight stories. As a single source of accurate and actionable data for aviation players large and small, FlightAware is Central to Aviation®.

Media Contact
Kathleen Bangs
, Marketing Communications Strategist
11 Greenway Plaza, Suite 2900
Houston, TX 77046
Tel:
713.622.9958