FBO Selection and Schedule Visualizer
At FlightAware, we're all about saving you time and making life easier. That's why, with FlightAware Aviator, pilots can update their departure time and schedule an FBO through the FlightAware iOS Mobile App, by email, or on the FlightAware website. By selecting a destination FBO for an upcoming flight, a notification will be sent to the FBO giving them a heads-up of any updated arrival time.
Once a pilot updates their Taxi Out time, we will send the FBO a more accurate arrival time using ForesightTM, our predictive technology. On the flight page, the Schedule Visualizer will highlight any conflicts for upcoming scheduled flights, including quick turnaround times. This is especially helpful in situations where multiple pilots - such as with a flying club or flight school - are flying the same airplane.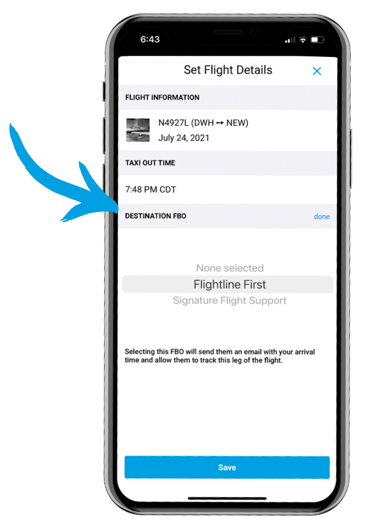 This feature is also very useful for pilots using the FlightAware mobile app. Make sure you have the latest version of FlightAware's iOS app and are logged into your FlightAware Aviator account.
---
Interested in learning more about the ultimate flight tracking suite for piston engine aircraft owners and operators?