FlightAware's Special Event Flight Tracking


4th of July Week (June 30 - July 9)
United States airports saw a rise in commercial air travel during the 4th of July holiday. This year, the TSA predicted record security screening numbers - and they were right. Despite flight counts being down by 19k flights compared to the same time period in 2019, 172k more passengers were screened.
We've compiled our data, along with the TSA security screening numbers, to showcase how June 30 - July 9 fared for air travel over the past 5 years.
Our dashboard aims to answer these questions:
How did flight volume compare over the past 5 years?
How many flights a day were there each year?
Where did people fly to?
How did arrival delay and cancellation rates compare?
How many passengers were screened through TSA?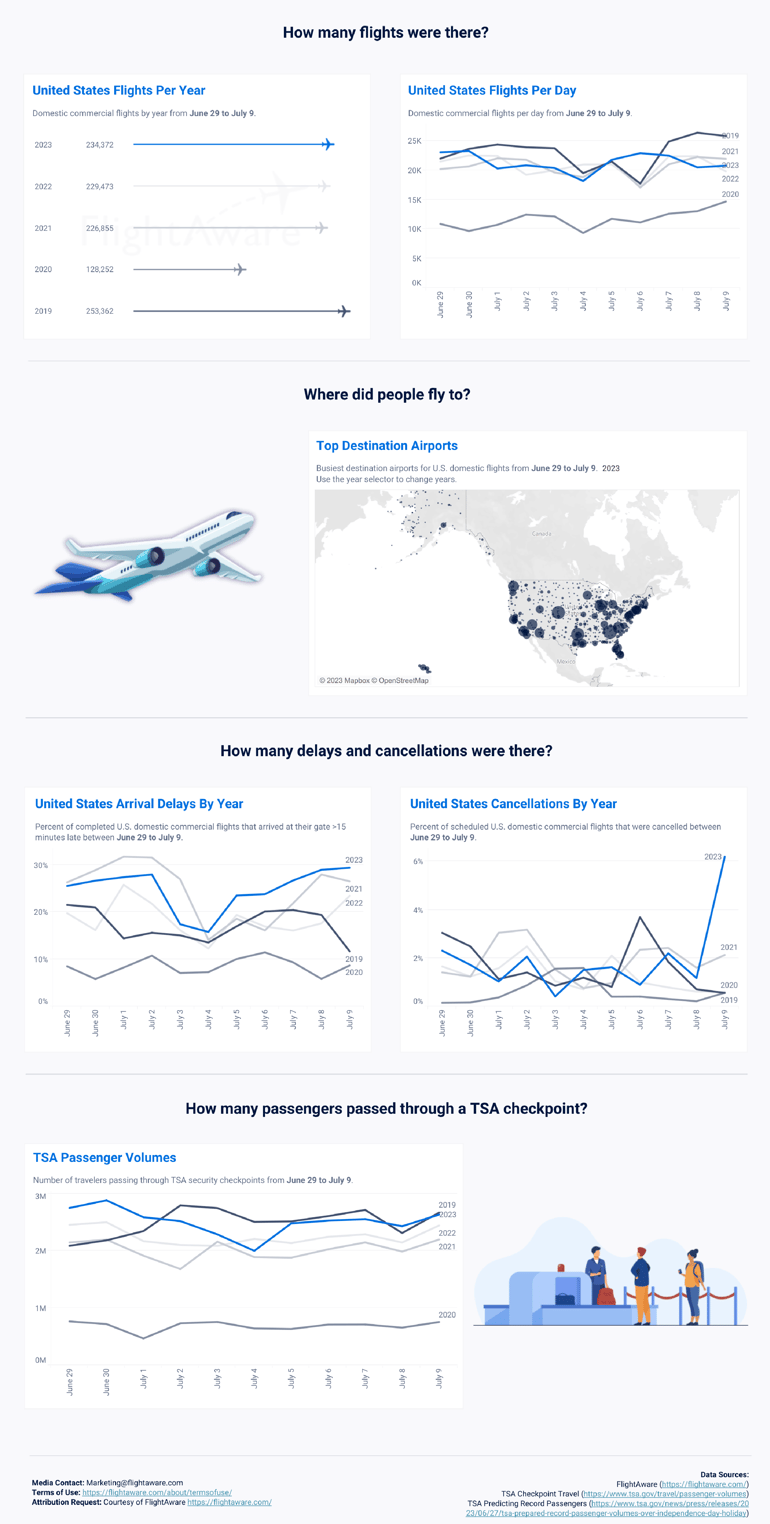 Want more data?
Get individual airport and aircraft history reports delivered via email in under an hour.
---
About FlightAware:
FlightAware, a part of Collins Aerospace, is a leading provider of real-time and historical flight information and insights to the global aviation community. FlightAware serves all segments of the aviation marketplace through best-in-class applications and data services that provide comprehensive information about the current and predicted movement of aircraft. Through the collection, interpretation, and enrichment of hundreds of sources of data, including data from FlightAware's own proprietary terrestrial ADS-B network with tens of thousands of receivers spanning seven continents in 200 countries and territories, FlightAware transforms millions of raw flight data elements and delivers them as coherent, easy-to-consume flight stories. As a single source of accurate and actionable data for aviation players large and small, FlightAware is Central to Aviation®.

Media Contact
Kathleen Bangs
, Senior Marketing Communications Strategist
11 Greenway Plaza, Suite 2900
Houston, TX 77046
Tel:
713.622.9958