Our FlightBridge Integration Makes it Easy
FlightAware partnered with FlightBridge to allow seamless flight management and tracking experience. Once your FlightAware and FlightBridge accounts are linked, users of FlightAware Global will receive scheduled flight and FBO information directly from FlightBridge before a flight plan is even filed. This enables more proactive tracking by both the operator and FBO without requiring FBO selection or data entry on FlightAware. This means that even if your flight is blocked, the FBO's staff will be able to track that leg of your flight.
Also with this integration, customers who subscribe to both FlightAware Global and FlightBridge will now have many of their Flight Following events updated in FlightBridge based on events detected through the FlightAware network, including ground events, such as power-on, taxi-out, and taxi-in.
You will need to link your FlightAware account to your FlightBridge account to enable the integration and optionally enable the real-time updates to your FBOs.
Here's a quick tutorial on how to easily link your accounts: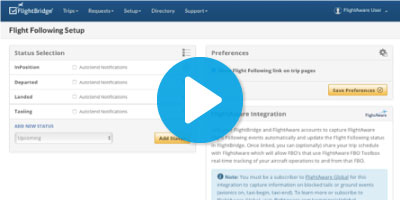 To link your accounts, follow these steps:
Log into your FlightBridge account on flightbridge.com

In the menu, under "Setup", click "Schedules Setup"

In the menu on the right, click "Flight Following Setup"

Under "Preferences", click the button to "Link with FlightAware"
You must be an admin on your FlightBridge account to configure the integration.
If you're already a Global subscriber, link your account today and immediately start receiving these benefits! Learn more about FlightAware Global or FlightBridge at flightbridge.com.
---
If you want to see how customers like Jet Linx benefit from this integration, watch our webinar: