See the latest from the FlightAware ADS-B Network, a community of aviation enthusiasts hosting a network of over 34,000 receivers in almost 200 countries and on all seven continents. If you're interested in joining or adding to our network, you can learn more about hosting a receiver here, or use the link below to check out our PiAware kits, which make it easy to get started.

September 2023 Highlights:
FlightFeeders at Airports
Featured Receiver Sites
SkyAware Series: Customizing your display with query strings
---
If it's your first time here, enter your email below to receive monthly newsletters from the ADS-B team at FlightAware. We'll be sharing news, updates, and helpful information about all things ADS-B!
---
Hello Everyone!
Welcome to the September ADS-B Newsletter. August was a great month for the ADS-B network as we welcomed 319 new PiAware hosts and 33 FlightFeeder hosts!

FlightFeeders at Airports
FlightAware is always looking to grow our community and enhance coverage on or near airports.
To show you an example of what coverage improvements we are striving for, here are a few before and after photos of our surface coverage at Eagle County Regional Airport in Denver. Last month, we had no coverage on the ground at this busy business aviation airport. We installed a FlightFeeder directly on the grounds and improved surface coverage dramatically.


Search our surface coverage map for a particular airport near you or any airports you have connections to and let us know if you think you can help improve it! If you don't see coverage for a particular airport you're able to help with, reach out using the button below.
Last month we encouraged potential hosts near these locations to reach out:
Birmingham-Shuttlesworth International Airport (KBHM)

George Bush Intercontinental Airport (KIAH)

Pueblo Memorial Airport, Pueblo, CO, United States (KPUB)
Additionally, this month we are prioritizing free FlightFeeders for people who live near the following airports:
Portland Intl Jetport, Portland, ME, United States (KPWM/PWM)

Cyril E King, Charlotte Amalie, VI, U.S. Virgin Islands (TIST/STT)

King Salmon, King Salmon, AK, United States (PAKN/AKN)

Talkeetna, Talkeetna, AK, United States (PATK)
If you reside or have a business within 5 miles of any of these airports, or know someone who would enjoy hosting a FlightFeeder in close proximity to another airport, we will send you a FlightFeeder for free!
You can request a FlightFeeder below and mention the monthly newsletter in the notes, or feel free to contact adsbsocial@flightaware.com directly.
---
Featured Sites for September

dmarloweshawca submitted this photo of his antenna setup in Calgary, Alberta. His unique home has a steel roof and 2 fireplaces with one never being used. To make use of it, he attached his antenna to a pole and then to a metal grid that covers the chimney. The grid not only helps secure the antenna but also keeps squirrels and birds from falling down the chimney!

craftycraft from Austin, TX sent in these photos of his PiAware he set up on the rooftop of his 5-story building. His antenna is mounted on a 10-foot mast for extra height, giving him optimal 360 coverage and making his setup one of the top-performing sites in the area!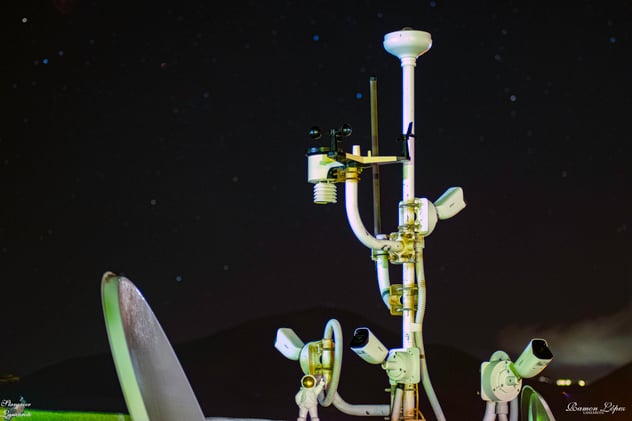 nordvestel is an avid stargazer and integrated his ADS-B antenna into his video station built to capture astral occurences around the Canary Islands. He is a long-time host of over 8 years and has one of our early model FlightFeeders that is still going strong. Thanks for being a part of the network for all these years!
---
Are you proud of your receiver setup? Send us your photos!
Each month we will proudly feature some of our ADS-B receiver hosts in our newsletter like the ones you see above. If you're interested in being featured, please submit photos of your setups and a small summary about you or your setup, and we'll pick some of the best ones to feature each month! We hope the featured hosts segment has been giving you ideas on improvements you can make to your receivers.

---
SkyAware - Customizing your display with query strings
Last week we went Behind the Scenes of SkyAware. This week we're talking about how to customize your display with query strings
A feature in SkyAware that is not well known is the ability to configure your default SkyAware display by using URL query strings. You can show, hide, or set elements of the SkyAware map such as the top banner, range rings, aircraft trails, and zoom level by constructing a specific URL like below:
http://192.168.0.122/skyaware/?sidebar=hide&altitudeChart=hide
A popular use case among our users for this is to display SkyAware on a public kiosk or remote display. They construct a URL that can set the default settings without having to manually go in and configure the map. You can find additional documentation on the configurable map elements on our Github. Try it out!
Do you have any cool features or ideas you'd be interested in seeing in SkyAware? Let us know by emailing adsbsocial@flightaware.com
---
If you have any topics or content you would be interested in seeing in our monthly newsletter or just want to leave us a comment or feedback, email us at adsbsocial@flightaware.com!
---
Help increase our coverage!

Our ADS-B network spans across 194 countries on all 7 continents thanks to you all. Our goal is to expand our terrestrial ADS-B coverage across the entire world, especially around airports to improve our surface coverage. If you or someone you know has connections to airports and FBO's or live in areas where we lack coverage, we'd love to send you a FlightFeeder! You can apply for one here. If we already have coverage in your area, you can still contribute to FlightAware by building your own PiAware. It's a fun little weekend project!
---
STAY IN TOUCH
Click the link below to visit the ADS-B Flight Tracking discussion forum on our website, or follow us on social media to stay up to date with the latest news!