See the latest from the
FlightAware ADS-B Network
, a community of aviation enthusiasts hosting a network of over 34,000 receivers in almost 200 countries and on all seven continents. If you're interested in joining or adding to our network, you can
learn more about hosting a receiver here,
or use the link below to check out our PiAware kits, which make it easy to get started.

June 2023 Highlights:
May Stats Recap

Featured Receiver Sites

Optimizing Your Receiver for Reliability and Performance: Internet Connection

---
If it's your first time here, enter your email below to receive monthly newsletters from the ADS-B team at FlightAware. We'll be sharing news, updates, and helpful information about all things ADS-B!
---
Last Month
We delivered 51 FlightFeeders to 24 countries: Argentina, Australia, Belgium, Belize, Canada, Colombia, Costa Rica, El Salvador, Fiji, France, Germany, Greece, Guatemala, Honduras, India, Indonesia, Mexico, New Zealand, Nicaragua, Norway, Spain, Turkey, United Kingdom, and the United States.
We welcomed 305 new users to the ADS-B network.
We're working on a new FlightFeeder update with an improved management interface and looking to make this compatible with all our receivers in a future update.
FlightFeeders at Airports
If you or someone you know has connections with an airport and would like to host a FlightFeeder, we'd love to send one for FREE. This allows us to get better quality surface coverage at airports. Please reach out to us at adsbsocial@flightaware.com and we can chat more about ways we can collaborate.
Featured Sites for June
This month's Featured Hosts both have PiAware receivers that have been online for over 1500 days. They each provided detail of their setups and the customizations they've made to keep them performant and reliable.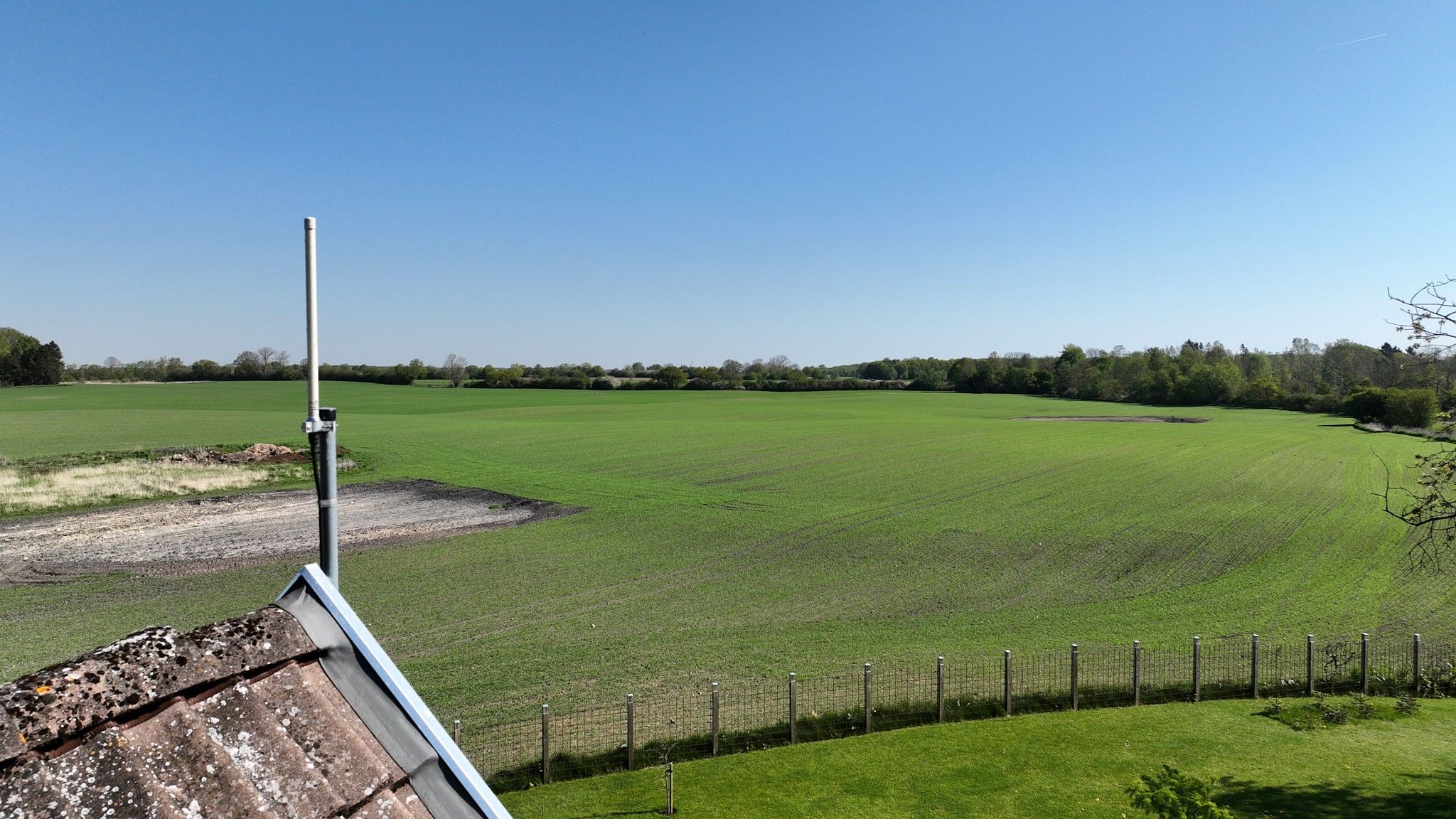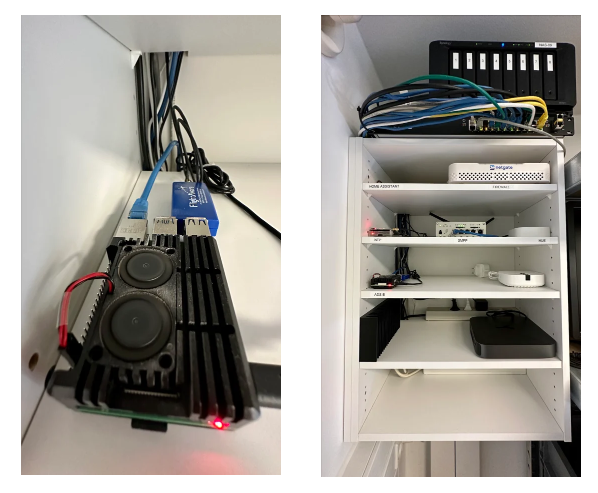 "Other than being a drone pilot, I don't have anything else to do with aviation – but I love technical stuff. And since I already am hosting a NTP Stratum-1 server, why not then also host a FlightAware ADS-B to contribute even more.
Hardware: Raspberry Pi 4B with 4 GB Ram FlightAware Pro Stick Plus JetVision Premium A3 ADS-B Antenna (+5 dBi) Low Loss CFD400 cable.
Internet Primary: 1G Fiber connection Secondary (automatic failover): 4G LTE
I have a long streak on uptime, since I'm almost always online (one way or the other) and power is backed up by a UPS that have 30 mins of run time"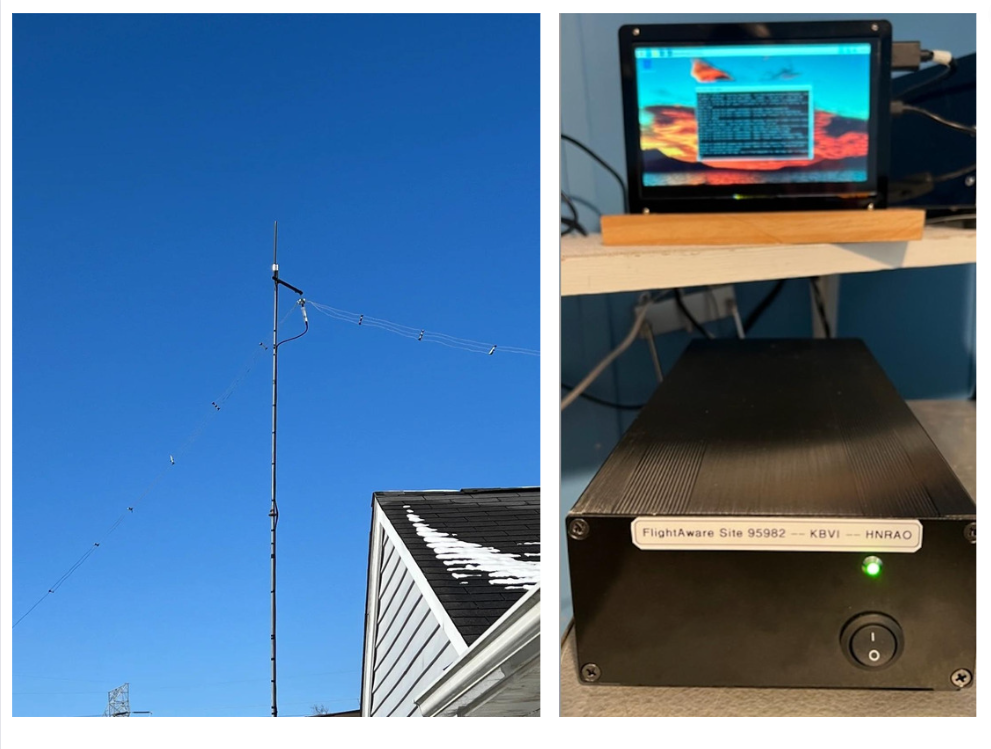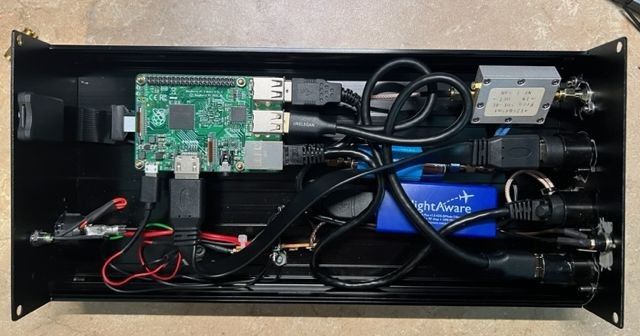 NJ3B

in Beaver Falls, Pennsylvania
"The 1090 MHz FlightAware antenna is run with 9913 coax to a PolyPhaser lightning protector. There are N-connectors from antenna to enclosure. A +27dB preamp passes through the FlightAware Dual UAT + ADS-B bandpass filter followed by the Pro-Stick Plus.
I'm running a Raspberry Pi 2. Power is from a 12V DC source and passed through a 12V DC to 5V DC voltage regulator to power the Pi 2. I added an external SD card slot mounted on the inside front cover for easy replacement without having to remove the Pi2. All the Pi2 outputs, HDMI, USB and Ethernet connectors were brought to the rear, along with the N-connector and power plug. A wireless keyboard and mouse are connected through the USB adapter on the rear. At the moment the Pi2 is connected to a Longruner Raspberry Pi 7 inch TFT LCD display."
---
Proud of your receiver setup? Submit your photos!
Each month we will proudly feature some of our ADS-B receivers hosts in our newsletter and across our social accounts. If you're interested in being featured, please submit photos of your setups and a small summary about you or your setup, and we'll pick some of the best ones to feature each month!
---
Optimizing Your Receiver for Reliability and Performance
If you missed our previous newsletters where we discuss the topics checked below, you can find them in our FlightAware blog.
Checklist for Optimal Receiver Setup
✅ Power
✅ Antennas
✅ Cables
✅ Signal Amplifiers and Filters
⬜ Internet Connection
⬜ Lightning and Electrical Surge Protection
One metric the ADS-B team monitors is how many receivers we've seen online in the past 2 days and how many we've seen online in the past 30 days. In a perfect world, the numbers should be relatively close to each other, but due to the nature of the community driven network, that is not the case. The primary reason for this is because people's internet connections may not be reliable which causes the receivers connected to the network to fluctuate.
This month's topic is about internet connections. You'll learn how to measure the stability of your network connection and what you can do to maintain a long uptime to keep the FlightAware network healthy.
For PiAware users that use Wi-Fi and have access to the terminal, you can see the quality and strength of the Wi-Fi signal by entering the Linux command iwconfig (see output below). The "Link Quality" field shows you how good of a signal your Wi-Fi receiver is picking up, which can be affected by interference or obstructions. The "Signal Level" measures the strength of the Wi-Fi signal. The closer the signal level value is to 0, the stronger the signal. The more negative, the weaker the signal is.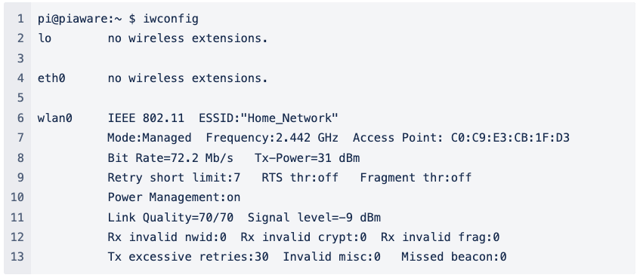 Another way to determine the stability of your Internet connection is looking at the Feeder Check-In time on your My ADS-B Stats pages. Your receiver is designed to "check-in" with FlightAware approximately every 5-10 minutes to ensure it's healthy. If you see a longer time, it may indicate a problem with the receiver, including the internet connectivity.
Things you can do to ensure Internet stability
Use wired Ethernet In general, wired Ethernet connections are faster and more reliable than a Wi-Fi connection. A Wi-Fi connection is susceptible to interference from other electrical devices and physical objects can often block the signals.

Have both Ethernet and wireless connection enabled The data feed to FlightAware will use the wired connection and if that doesn't work it will fall back to using the wireless connection. If the wired connection becomes available again it will switch back to using the wired connection.

Place your receiver and access point close to each other A router stowed away in a closet is not the ideal place for it. A receiver placed in the attic will work but the internet stability may be affected due to obstructions. If Ethernet is not an option, try placing them closer to each other.

Upgrade your internet or router We realize this is not possible for everyone, but if it is, investing in a good internet, router, or Wi-Fi extender can help immensely.
What have you done to ensure your receiver is connected and online 24/7? Email us at adsbsocial@flightaware.com and let us know!
Next month, we'll be talking about Lightning and Electrical Surge Protection.
---
If you have any topics or content you would be interested in seeing in our monthly newsletter or just want to leave us a comment or feedback, email us at adsbsocial@flightaware.com
---
Help increase our coverage!

Our ADS-B network spans across 194 countries on all 7 continents thanks to you all. Our goal is to expand our terrestrial ADS-B coverage across the entire world, especially around airports to improve our surface coverage. If you or someone you know has connections to airports and FBO's or live in areas where we lack coverage, we'd love to send you a FlightFeeder! You can apply for one here. If we already have coverage in your area, you can still contribute to FlightAware by building your own PiAware. It's a fun little weekend project!
---
STAY IN TOUCH
Click the link below to visit the ADS-B Flight Tracking discussion forum on our website, or follow us on social media to stay up to date with the latest news!